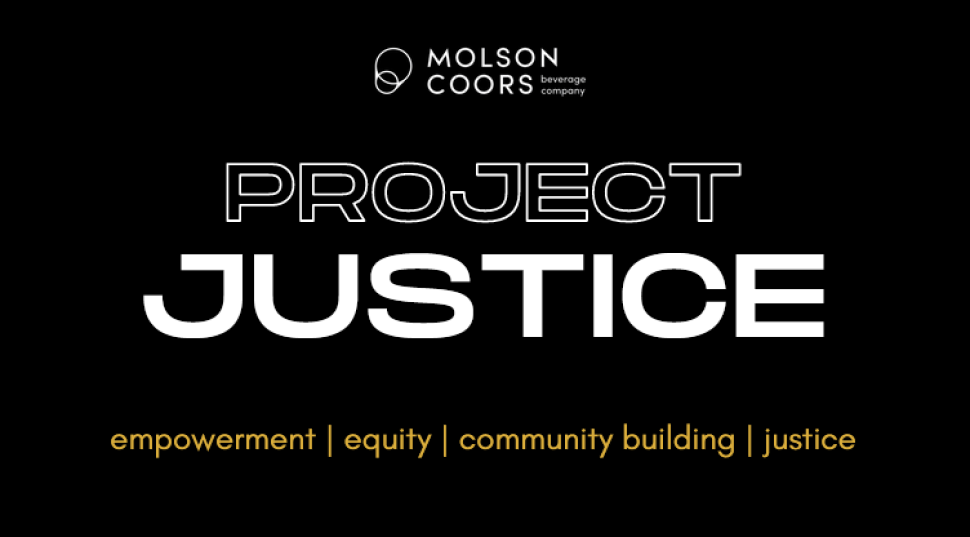 Project Justice
In response to civil unrest in 2020, Molson Coors launched Project Justice, a program that donated $1.5 million to support North American organizations dedicated to equity, empowerment, justice and community building. After engaging our own employee resource groups for feedback, Molson Coors funded 26 social justice organizations across the U.S. and Canada. The goal: to build a better and more equal future for us all, while at the same time investing in the needs of BIPOC communities suffering from the effects of systemic racism and discrimination. In 2021, we will invest another $1.5 million in this initiative, which we view as a movement, not a moment.
African American Chamber of Commerce of Wisconsin champions the growth and sustainability of African-American-owned businesses by providing access to capital, education and advocacy through capacity building and strategic partnerships.
Albany Civil Rights Institute is a museum and research center that includes the rehabilitated Old Mount Zion Baptist Church. The institute includes exhibits, interactive displays, a digital oral history database and a resource library that tells the story of life in Georgia before and during the Civil Rights Movement.
America's Black Holocaust Museum builds public awareness of the harmful legacies of slavery and Jim Crow in America and promotes racial repair, reconciliation, and healing.
Asian Americans Advancing Justice-Chicago builds power through collective advocacy and organizing to achieve racial equity.
Bail Project combats mass incarceration by disrupting the money bail system-one person at a time. Its work restores the presumption of innocence, reunites families and challenges a system that criminalizes race and poverty.
Black Legal Action Centre is a not-for-profit corporation set up under the laws of Ontario in 2017. BLAC provides free legal services to low- and no-income Black Ontarians who are facing a legal issue directly related to anti-Black racism.
Black and Brown Owned Business Resiliency Grant Program helps Black- and Brown-owned businesses within our community. In response to that desire, the Harrisonburg-Rockingham Chamber's Diversity Business Council has mapped out a strategy to grow Black- and Brown-owned businesses in Harrisonburg and Rockingham County. Additionally, B³ seeks to create a welcoming culture that will attract new Black- and Brown- owned business ventures and will encourage increasing investment from our existing Black and Brown owned businesses.
Black Resilience in Colorado (BRIC) directs resources to address systemic racism and its impact on Black communities across the seven-county Metro Denver region.  BRIC supports nonprofit organizations that are led by and serve Black communities.
Brave Space Alliance is a vehicle to empower and elevate queer and trans voices, particularly those belonging to people of color, to allow our communities a seat at the table on key decision making processes that impact the community of Chicago.
Colorado Criminal Justice Reform Coalition exists to eliminate the overuse of the criminal justice system and advance community health and safety. We are people convicted of crime, survivors of crime, and the families and allies of both. We advocate and organize for public safety strategies that are more holistic, effective and just.
Community Frontline-Fort Worth mobilizes men to enter into and alleviate the suffering in their communities, beginning with East Fort Worth.
Equal Justice Initiative is committed to ending mass incarceration and excessive punishment in the U.S., challenging racial and economic injustice, and protecting basic human rights for the most vulnerable people in American society.
HBCU Classics Scholarships that support of scholarships at participating historically black colleges and university in the HBCU Classics football games sponsored by Molson Coors.
Hoodstock primarily services the Montreal-North area, which is a heavily populated area of Montreal with a high immigrant population (most notably from from Haiti, Algeria, Morocco and Cameroon); it was the Canadian epicentre in COVID's first wave, and the community has been exponentially struggling with issues of crime, unemployment, lack of resources and more.
Milwaukee Urban League leads through education, employment, and advocacy to achieve economic vibrancy and equal access to all industries and disciplines that position African-Americans to create wealth and live a better quality of life. 
MKE Fellows envisions a healthier and more economically prosperous community that is better positioned to support the fiscal growth of Wisconsin. The primary goal of MKE Fellows is the creation of a strong pipeline of young, African-American male college graduates ready to return to Wisconsin to excel in their careers, build wealth, and become engaged leaders.
My Block, My Hood, My City provides opportunities for others to step outside their comfort zone and explore new communities, cultures and cuisines in an effort to gain a greater understanding of the world.
NAACP Legal Defense Fund is America's premier legal organization fighting for racial justice. Through litigation, advocacy, and public education, LDF seeks structural changes to expand democracy, eliminate disparities, and achieve racial justice in a society that fulfills the promise of equality for all Americans.
National Urban League is a historic civil rights organization dedicated to economic empowerment, equality, and social justice. The Urban League collaborates at the national and local levels with community leaders, policymakers, and corporate partners to elevate the standards of living for African-Americans and other historically underserved groups.
Native American Rights Fund, founded in 1970, holds governments accountable. We fight to protect Native American rights, resources, and lifeways through litigation, legal advocacy, and expertise.
Near West Side Partners' mission is to revitalize and sustain the Near West Side as a thriving business and residential corridor, through collaborative efforts to promote economic development, improved housing, unified neighborhood identity and branding, and greater safety for residents and businesses. 
Sherman Phoenix Foundation transformed the fire-damaged BMO Harris Bank building located at the eastern gateway to the Sherman Park neighborhood into high-quality space for small businesses-of-color offering diverse foods, wellness services and cultural activities. 
Southside Community Garden focuses on restoring the relationship between food consumption and food growing. "Teach to fish" philosophy: We focus on the learning process, with each household gardening from seedling to whole tomato.  Access to healthy food is a right; knowing how to grow food is one path.  Racism directly impacts the health and diet of Black and brown people worldwide; food autonomy is a vital part of justice.
Tenth & Blake Brewing Education Scholarship Fund endowed two scholarships between Leinenkugel's-University of Wisconsin and Revolver-Texas A&M University to support minority students in brewing and fermentation science programs. Students will also have an opportunity to intern at the craft partner brewery between their junior and senior years.
The Lonely Entrepreneur's Black Entrepreneur Initiative seeks to empower 100,000 black men and women with the entrepreneurial skills to start or grow a business. The Black Entrepreneur Initiative has led to unprecedented cooperation among corporations, philanthropies and governments in the fight against social and economic injustice.
Tulsa Race Massacre Centennial Commission will leverage the rich history surrounding the 1921 Tulsa Race Massacre by facilitating actions, activities, and events that commemorate and educate all citizens.
UnidosUS serves the Hispanic community through our research, policy analysis, and state and national advocacy efforts, as well as in our program work in communities nationwide. And we partner with a national network of nearly 300 Affiliates across the country to serve millions of Latinos in the areas of civic engagement, civil rights and immigration, education, workforce and the economy, health, and housing.
Urban League of Greater Southwestern Ohio's mission is to transform generations by promoting personal empowerment and economic self-sufficiency.
Walls to Bridges is an innovative educational program that brings together incarcerated ("Inside") and non-incarcerated ("Outside") students to study post-secondary courses in jails and prisons across Canada.
Wisconsin Equal Justice Fund, Inc. (WEJF) is the designated fundraising arm for three organizations that provide pro bono civil legal aid services for the hundreds of thousands of Wisconsin residents who live in poverty: Disability Rights Wisconsin, Legal Action of Wisconsin and Wisconsin Judicare. These programs are often the last line of defense for low-income citizens facing homelessness, unemployment and devastating poverty.
YWCA of Metropolitan Chicago is dedicated to eliminating racism, empowering women and promoting peace, justice, freedom and dignity for all.
YWCA of Southeast Wisconsin is dedicated to eliminating racism, empowering women and promoting peace, justice, freedom and dignity for all.
Various organizations supporting Indigenous Canada: Providing counselling, education, and justice support for Indigenous peoples and communities across Canada.