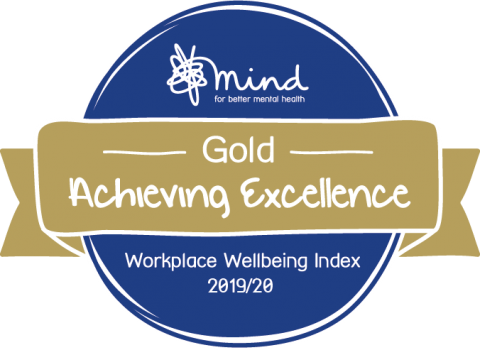 Molson Coors Beverage Company has been recognised with a Gold award in Mind's Workplace Wellbeing Awards for its commitment to workplace wellbeing.
It was one of 103 organisations to take part in Mind's second annual Workplace Wellbeing Index. Molson Coors' Gold Award means the company is achieving excellence in successfully embedding mental health policies and practices and is demonstrating a long-term, in-depth commitment to staff mental health and achieving change within the workplace.
Mind's Workplace Wellbeing Index is a benchmark of best policy and practice, celebrating the good work employers are doing to promote and support positive mental health, and providing key recommendations on the specific areas where there is room to improve.
Every employer depends on having healthy and productive employees – valued and supported staff are far more likely to perform better and achieve peak performance. Mental health problems are common among employees. Mind surveyed more than 44,000 employees across the 106 employers participating in the Awards and found that 7 in 10 had experienced a mental health problem in their lives, with over one in two (53 per cent) affected by poor mental health in their current workplace.
As part of its ongoing commitment to wellbeing in the workplace, Molson Coors has established a specialised wellbeing team to create a supportive and caring environment for all employees. This includes the brewer's innovative #letskeeptalking campaign, which encouraged workers to share videos documenting their own experiences with mental health, and 'Moments that Matter' programme, offering more flexible working hours and leave to promote a better work-life balance. Molson Coors has also introduced resilience training for all line managers and senior leadership team members, and has more than 50 'Mental Health Champions', who are all trained in Mental Health First Aid to provide support for colleagues.
The Gold award from Mind follows Molson Coors receiving the Best Innovation in Wellbeing award from the Reward  & Employee Benefits Association (REBA) for its Live Leave policy earlier this year.
Adam Firby, HR Director at Molson Coors Beverage Company said: "We're incredibly proud to be recognised by Mind for our employee wellbeing initiatives, as our people lie at the heart of everything we do. It's testament to the hard work of our caring and committed wellbeing team, who are all passionate about ensuring that everyone is happy and healthy in the workplace.
"We know that there is no singular approach that works for everyone, which is why it's so important to listen to the needs of all of our staff and continuously adapt our approach to find new and innovative ways to support people. The current climate also presents new challenges for employee wellbeing, but we are committed to ensuring that no matter where people are working, they feel safe, valued and supported."
Emma Mamo, Head of Workplace Wellbeing at Mind, said: "Every employer depends on having a healthy and productive workforce – valued and supported employees are far more likely to deliver the best outcomes for your organisation. That's why we're delighted to recognise and celebrate employers making mental health a priority for their organisation through our Workplace Wellbeing Awards.
"This year, we've been overwhelmed to see so much good practice right across the board, from each and every one of the 103 diverse employers to take part. These Awards provide an opportunity to recognise those forward-thinking employers who are at the cutting edge when it comes to investing in their staff wellbeing, and in turn getting the best outcomes for their business."
To register your interest in taking part in next year's Workplace Wellbeing Awards, please visit mind.org.uk/index.
Notes to editors:
For more information please contact Tom Milner at [email protected]
About Molson Coors Beverage Company
For over two centuries Molson Coors has been brewing beverages that unite people for all of life's moments. In the UK and Ireland we now have six breweries, with our UK home in the renowned brewing town, Burton-upon-Trent, and a nearly 300-year-old cider press in Suffolk.
Molson Coors produces some of the most beloved and iconic beer brands ever made. While the company's history is rooted in beer, Molson Coors offers a modern portfolio that expands beyond the beer aisle. Our growing beverage portfolio in the UK & Ireland includes Pravha, Staropramen, Blue Moon, Offshore, Franciscan Well Chieftain IPA and Archway Lager, Rekorderlig, Aspall Cyder, Pip & Wild and Wellraiser, alongside popular favourites Coors Light, Carling - the UK's number one selling lager, and the UK's number one selling cask ale - Doom Bar.
Molson Coors Beverage Company is a publicly traded company that is traded on the New York and Canadian Stock Exchange (TAP). The company's commitment to raising industry standards and leaving a positive imprint on our employees, consumers, communities and the environment is reflected in Our Beer Print and our 2025 sustainability targets. To learn more about Molson Coors Beverage Company, visit molsoncoors.com or on Twitter through @MolsonCoors.
About Mind and its Workplace Wellbeing Awards:
We're Mind, the mental health charity. We provide advice and support to empower anyone experiencing a mental health problem. We campaign to improve services, raise awareness and promote understanding. We won't give up until everyone experiencing a mental health problem gets both support and respect.

mind.org.uk

Mind has a confidential information and support line, Mind Infoline, available on 0300 123 3393 (lines open 9am - 6pm, Monday – Friday)
Mind's Workplace Wellbeing programme aims to help people understand and start talking about the costs of neglecting mental wellbeing in the workplace.

Mind offers free resources for employers to help improve mental wellbeing and employee engagement: www.mind.org.uk/work

For more information, including tips for employers and staff, please visit

mind.org.uk/work

Mind's Workplace Wellbeing Awards recognise and celebrate the good work employers are doing to promote staff mental wellbeing. Forward-thinking employers can get involved in next year's by visiting www.mind.org.uk/index