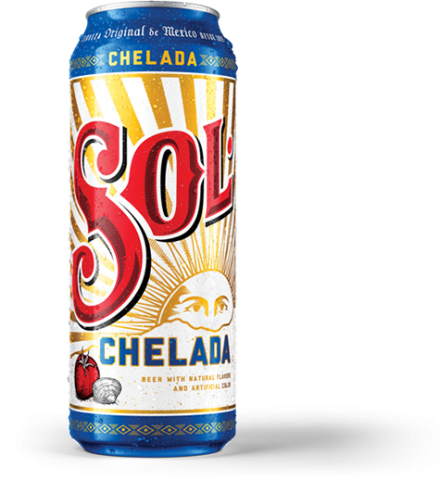 CHICAGO (February 28, 2019) – Sol, the beer founded in the heart of Mexico in 1899, is bringing an iconic Mexican flavor to fans and new drinkers with the introduction of its newest release, Sol Chelada. Releasing in the U.S. this month, Sol Chelada is a ready-to-drink mix that combines Sol beer with tomato, lime, spices and other natural flavors. Crafted by the same brewmasters behind the number one chelada in Mexico, Sol Chelada finally brings the same flavor to the U.S. that has previously been enjoyed south of the border.
Sol Chelada packs an uncompromising authentic flavor because it's crafted with Sol, one of the largest and most popular Mexican beer brands. The combination of beer with the ingredients that constitute the chelada is traditionally known as a mezcla (blend). At 3.5 percent alcohol by volume, Sol Chelada arrives a year after the Mexican import Sol was relaunched in the U.S. under MillerCoors.
"Beer drinkers have been asking us to bring Sol Chelada to the United States for quite some time," said Danielle Rappoport, MillerCoors marketing director. "We are proud to introduce a convenient, savory and refreshing chelada mix that fans and new drinkers can enjoy."
Sol Chelada is available in 24-ounce single cans at most grocery, convenience stores and liquor stores nationwide and will be supported with online video, social media, digital advertising, PR, influencer programming and out-of-home displays.
For more information on Sol Chelada, visit Sol.com/US, Facebook.com/SolBeerUS and follow @SolBeerUS on Twitter and Instagram.